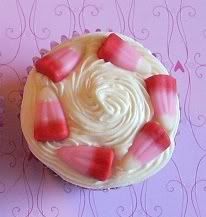 I was craving cupcakes..I mean pregnancy just does something to me so..On a shopping trip to Kohl's a couple weeks ago I came across a book..a CUPCAKE Book coincidence? I think so. it contains over 60 decorating tips for cupcakes.I started looking at it Last night when I was in bed..my mind was drifting... I knew my anniversary is around the corner, I was worried about my first nursing test..am I gonna go back to work.. and in the midst of all this I was thinking I need a cute idea for my blog! Cupcakes,anniversary, blog?? Then it came to me.. A GIVEAWAY! How'd you meet your cupcake!!
So ladies now's your chance to tell your story. How did you meet the love of your life?
This giveaway consist of:
*cupcake book
*cupcake dish towels (adorable)
*cupcake icing knives
*cupcake foil wraps
*baking utensils
*cupcake magnets
*and of course cupcake mix!!
Tell your story and recieve -10 entries
Blog about my page recieve-20 entries
Follow me for life :) and recieve-15 entries
NOW my love story :)
I met Matthew in 5th grade, he was the new boy, such a cutie, we talked in middle school never dated, couldn't stand one another in high school lol
Matthew went away to the military straight after graduation.. so we of course became friends on myspace, talked every once in a while. In Feb. of 2008 we talked almost everyday, and he said he would be home soon and that was kinda the last I heard from him.In May of 2008 after a tour of duty in Iraq he came home on leave..he messaged me a couple weeks prior to and told me he would come see me when he got home.. the day he arrived I had gullbladder surgery (11 days before my 21st birthday). I thought I had already missed my chance.. My 21st birthday rolled around and after losing 15 lbs I was looking pretty fly lol
The night of my 21st I of course indulged in what most 21 year olds do.. PARTY! We had a night on the town, my last stop that night was a little dance club in our home town and my MATTHEW was there. We immediately made eye contact when I walked in the door, he came up to me, gave me a hug, bought me a drink. LOVE AT FIRST SIGHT! After that weekend we spent every last minute we could together and before he went back on leave he ask me to be his girlfriend.. Our summer together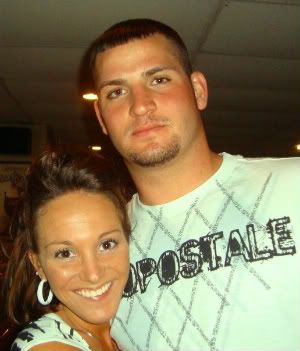 The next couple months we spent flying back and forth seeing one another.He was stationed at Fort Riley in Kansas. I would fly there stay 4 and 5 days fly home, then 2 weeks would past then he would fly home.. We did this for 9 months.. all that grand total with airline tickets, hotels, food, gas, was well over 10,000 :)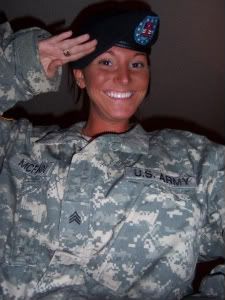 August rolled around and Matthew was home for a couple days, he started acting extremely weird.. I thought he is going to break up with me. We spent the weekend at the Ohio State Game, then on Saturday we were coming home from Columbus he said he was going to go out with one of his friends.. What?? He called me Sunday morning and said do you want to go eat, I was so mad I almost refused.. We arrived at Texas Roadhouse in Ashland and my family was there, I thought well this is odd. We ate, talked and the whole time he was shaking, I thought he was coming down with the flu.. then he handed me this zebra bag with a box in it......
I opened the box and inside was a DOG TAG, I THOUGHT AH HE's giving me his dogtag because he must be going back overseas :( Everyone kept starring at me because I hadn't really examined the tag yet, then when I turned it over it said "Michelle, Will you marry me?" Then when I turned to Matthew there was my ring.... AHHHHH!!!
SO.. NOW I AM MRS. MCFANN, WILL BE CELEBRATING MY 2ND WEDDING ANNIVERSARY 2-14-11 AND 2 BABY BOY LATERS, WE'RE STILL LIVING OUR LOVE STORY!!
NOW ITS YOUR TURN.. GIVEAWAY ENDS 1-28-11