WE HAD SUCH A BEAUTIFUL WEEKEND HERE IN OHIO :) LOTS OF SUNSHINE.. HIGH IN THE 60'S.. PERFECT DAY FOR MAVERIC A PLAY DATE IN THE PARK.. HE LOVED THE SLIDE. :)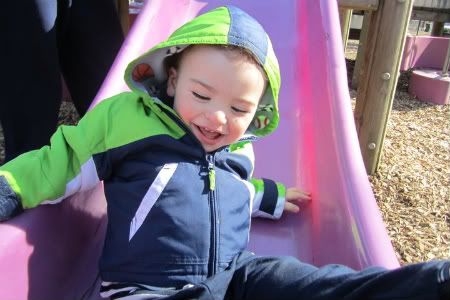 I AM JUST SO THANKFUL TO BE BLESSED WITH SUCH AN AMAZING LIL BOY :) WHO I KNOW WILL BE A WONDERFUL BIG BROTHER!!
AFTER OUR PARK TRIP, WE CAME HOME HAD A WONDERFUL DINNER WITH MY MOM AND DAD AND THEN MAVERIC CALLED IT A NIGHT ON HIS DAP'S (what he calls my dad) LAP.. BLESSED TO HAVE MY DADDY 2 :)
REMEMBER THE GIVEAWAY ENDS 3-21-10.. SO FAR I HAVE 5 ENTRIES.. PASS THE WORD ALONG.. TO ENTER LIST 5 OF YOUR FAVORITE THINGS YOU LOVE ABOUT SPRING.. YOU WILL RECIEVE YOUR ITEMS PLUS THINGS I LOVE :)
1.JELLY BEANS
2.FLIP FLOPS
3.BRING SPRING COLORS
4.EASTER DECOR.
5.PUTTING OUT MY SPRING FLAGS :)
HAVE A GREAT WEEK :) GOD BLESS